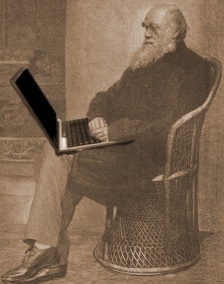 Reported over at cNet's -
Darwin's private papers go digital
.
Granted this is not exactly "tech news", but it definitely qualifies at "back page news". I figure that bunches of folks will be scouring these online reads for evidence supporting their standings on which ever side of the evolution/creationism discussion they fall.
As noted in the news.com article of Thursday 2008.04.17 -
The Darwin Online Project is releasing on Thursday more than 90,000 online pages of Charles Darwin's photographs, sketches, and manuscripts, including the first draft of his theory of evolution.
Darwin Online
As a side note, over on the Darwin Online site they have a
page dedicated to 2009
-
The year 2009 is the 150th anniversary of the publication of On the Origin of Species (24 November 1859) and the 200th anniversary of Darwin's birth (12 February 1809)
To find out the latest releases, try the
What's New page
.
Overall, this stuff is an interesting read when you put together the time line, events of the day and the discussions that have ensued since the initial publications. Granted to some this will be a boring as let's say... rust, but to this writer, who is intrigued by anyone who can step beyond their present day by seeing what is and then making the leap to predict what was and what will be. It is an amazing mind which accomplishes this.
Enjoy!